21.11.08
New website and blog.

24.07.08
Based in Phuket (Southern Thailand island), Amanda II superyacht is equipped with the best existing electronic devices : 2 NavNet VX2 Black Box and a NavNet VX2 MFD 10.4 by Furuno, connected to a MaxSea NavNet Explorer.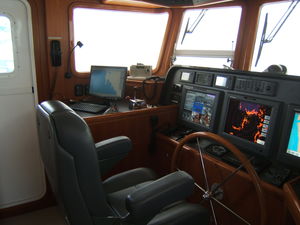 The owner is very satisfied with weather forecast, which allows him to sail safely and in good conditions, during his family's sea trips in South-East Asia.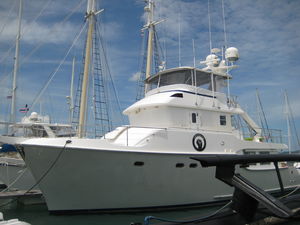 13.06.08
After 65 days sailing, Jean Gabriel Chelala (48°Nord Expedition) has covered 2.700 nautical miles on board his cyclomer.
"I'm both happy and at ease knowing that more than half of my trip across the Atlantic has been completed. I'm trying to forget about the finish, and not count each mile....
Danger is near: current weather and unusuallly hot sea water predict tropical storms and the cyclone season… I will have to becareful, as I may confront strong conditions…"
More info: http://www.jeangabrielchelala.com/index1.html
11.06.08
LONE RANGER was originally built in Germany in 1973. This 255 foot salvage tug was converted in 1994 into an expedition yacht. The crew will be using MaxSea Explorer in Greenland this summer…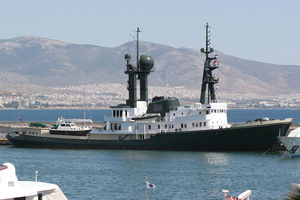 02.06.08
MaxSea's staff introduced in Paris the new features of Time Zero to sailors who will take part to the next Iles du Soleil Rally. The start is scheduled fot October in Madeira, and after a stop in Dakar, they will cross the Atlantic to Brazil. MaxSea, with AIS and Routing modules will be a precious tool for them.
30.05.08
Tour De Belle Ile race went off on the past may 10th week end. Balance is very positive and encouraging, and proves that public is interested in this kind of event. More than 120 boats were subscribed and 562 sailors took part to the race: the younger was 8 and the older 76.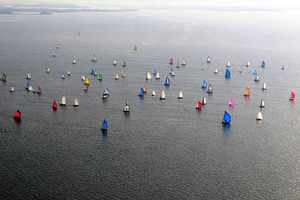 © eol / François Van Malleghem


All categories were represented, from mach 6.50 to Anne Caseneuve's 50 foot trimaran, which established the new record crossing the line after 6h 48 min24s. The longest boat was Eric Tabarly's Pen Duick VI (22,5 meters) which was certainly the most experienced one with 2 Withbreads and more than 280 000 milles of navigation since 1973. See you next year !
Very interesting post in marine electronics reference blog PANBO, about Loic Peyron's Gitana Eighty's equipment (Peyron won the last Artemis Transat). One more time, MaxSea is in front page….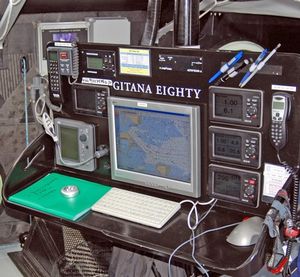 Photo P.Nielsen/Sail/Panbo
More info:
http://www.panbo.com/archives/2008/05/gear_puzzle_and_gitana_eightys_nav_station.
29.05.08
The third edition of Deauville International Week remains loyal to its values whilst being innovative as regards to sports organization and on shore entertainment: a new mixed program of buoy and in-shore races, registration fees reviewed to facilitate access to small one designs and small IRC crafts, new reception areas and a crew to develop exchanges and conviviality between competitors.
An increased number of labels and championships (French Crew Championship in Mumm 30, French Cup in J80, National 747 OD, EuroCup in J 109, Trophée Manche (Channel Trophy in IRC) bear witness to the sporting development of the event. MaxSea, technical partner of the event, invites you the 29th of May to Deauville.
26.05.08
The season started and first results are full of promises…
For her fist participation to the Solo Figaro Arimer in Les Sables-d'Olonne, Isabelle ranked 13th of general classification, and 2nd of rookies. Race organization had to divide initial race because of alarming weather forecasts. A few weeks later, during the 24th edition of Transmanche race, she crossed the finishing line 7th, after a complex race, with exceptional weather conditions. She also classified 6th of the Solo Port de France race, confirming her regularity
It has been a very interesting and rich experience for Isabelle who is learning every day more. With those results within Figaro's circuit main races, Isabelle is now qualified for the Solitaire du Figaro 2008 race. See you on the departure, on July 19th in La Rochelle !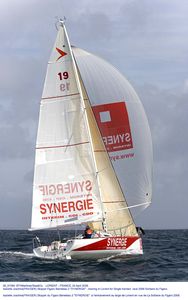 22.05.08
Panbo is a reference weblog in marine electronics. This is the conclusion of the NavNet 3D's test : "Furuno and MaxSea have created not just a remarkable navigation system, but one that scales easily from center console to megayacht and sailboats."
Read full article in http://www.panbo.com/ .