10.05.08
The day before the start of The Artemis Transat, Michel Desjoyeaux observes that weather conditions are unusual across the North Atlantic, which will make this thirteenth edition of the race all the more exciting, with twelve 60 foot monohulls in race :
"The Artemis Transat is a more difficult event than the Route du Rhum: I haven't raced the Rhum in a monohull but I'm well aware of what it represents, as I've done it twice in a trimaran, and The Transat is a race I've sailed on both a monohull and a multihull… It's an important race in terms of the outcome on a sporting level, the severity and the difficulty. It contains all the ingredients of a concentrated round the world: we go directly from the Bay of Biscay (English Channel) to the Indian Ocean (Newfoundland)! The water around the Labrador current is between just 2° and 5°C… These are the same conditions as in the Southern Ocean! The transition is more brutal too than on an Atlantic descent.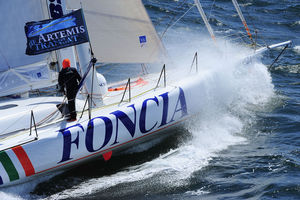 The forecast seems to be indicating light conditions: gentle winds to exit the English Channel, wind on the beam after Ireland and downwind conditions as they pass to the north of a low, which will be situated in the middle of the Atlantic next Wednesday… As a result it will be a rather calm start to the race: I'm not upset about that as it will enable us to break into the rhythm gently."
(Source Team Foncia / Picture Yvan Zebda)
For more information, visit http://www.theartemistransat.com/.
Commentaires sur Start of The Artemis Transat: comments by MaxSea's partner Michel Desjoyeaux